Digital Libraries are collections of digital objects in various formats (audio, video, text etc.) often collected and described for a certain purpose. The collections may be accessible online or locally.
Today, digital libraries are an important means to present and promote content online. Museums, Archives and Libraries are increasingly publishing parts of their collections in the internet via digital libraries. Many of them are collaborating in joint virtual catalogues which provide a single search option to access the different collections' digital objects.
Reference Project
The Cataloguing of the Cultural Heritage in South Tyrol
Within a region-wide cataloguing initiative of the local government of South Tyrol Steinbeis Transfer Centre IMCHI analysed the heterogeneous and historically grown collection documentation of all cultural heritage institutions in South Tyrol. On the basis of these findings a target concept for the comprehensive and standardized cataloguing was developed. The final outcome of the project was a virtual, multilingual catalogue of all cultural heritage objects of South Tyrol.
The virtual catalogue has different user categories (public, scientific, administration etc.) and offer functions like database access and distributed search, cooperative thesaurus management, knowledge presentation, virtual exhibitions and museum shops, mailing lists and discussion fora and more. The virtual catalogue is multilingual and based on international standards.
Steinbeis project duration: January 2003 – December 2008.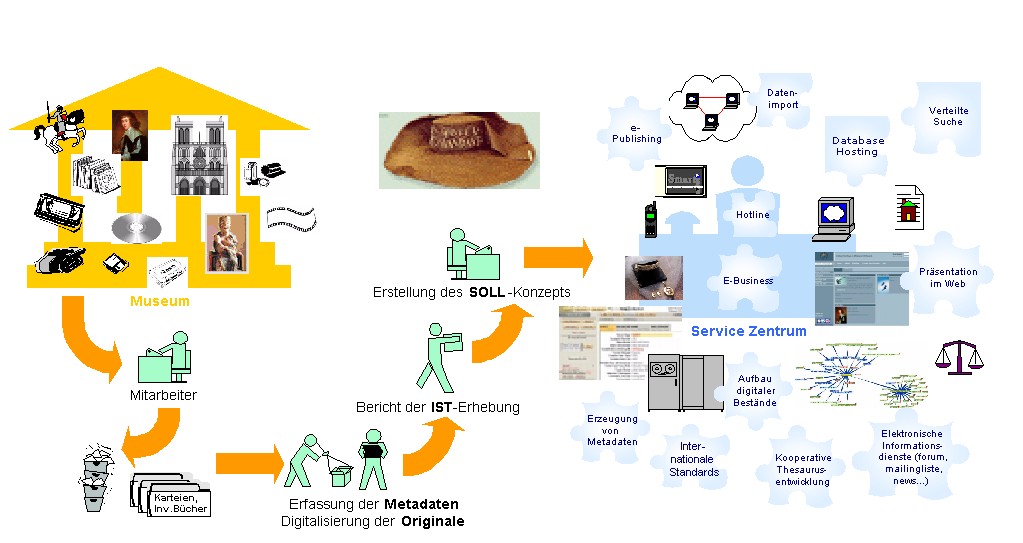 Reference event
Digitale Bibliothek
In autumn 2010 STZ IMCHI jointly organised a first national information day with the University of Graz, named "Digitale Bibliothek".  The event has now turned into a yearly conference and a forum of discussion for recent developments in the field of digital libraries in the cultural sector.
Conference website:  http://conference.ait.co.at/digbib/